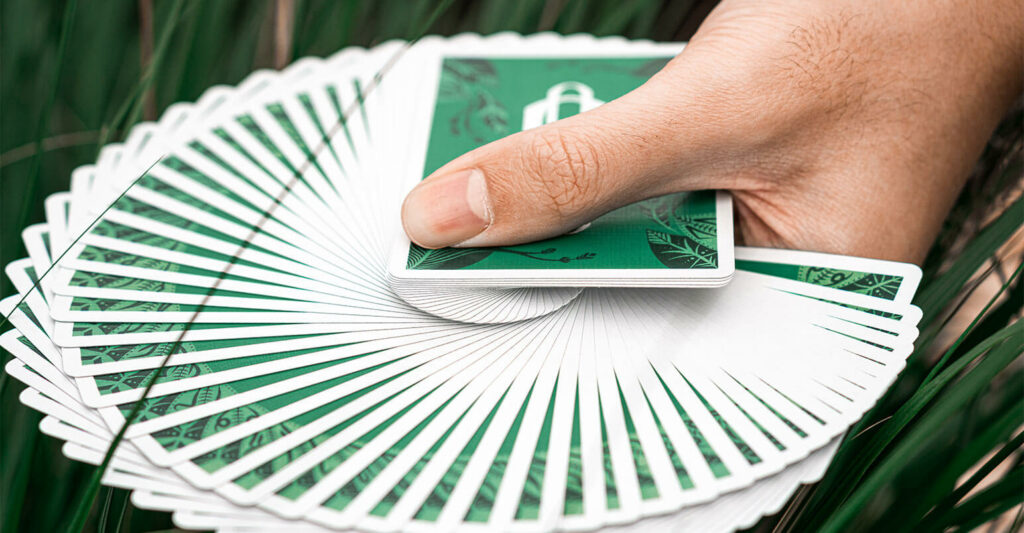 Info
---
Plant 6 trees in the Amazon rainforest!
The limited Somniumcards Eden Edition is a top quality premium card deck by Matthias Berger and Hai Do. Design and production are adjusted to ensure that both magicians and cardists get their money's worth.
Unlike previous editions, the Eden Edition is fully marked – that means you can see the full index of each card (suit + value) on each back. You will learn the marking system within minutes with the help of an instruction card that is included in the deck. You also receive a double face card (7 of spades to ace of spades), with which you can perform great magic tricks, as well as the premium 6-decks collection box. Stock and Finish: Slimline B9 by Cartamundi.
The cards are 100% eco-friendly:
FSC-certified paper
Water based varnish
Plant based ink
Recycled plastic around the cards, which is biodegradable
Paper wrapper around the tuck box with sugar cane seal
For every deck ordered we plant a tree in the Amazon rainforest. So you plant 6 trees with the halfbrick box!
ATTENTION!
This is a pre-sale! From 02.06.20 – 04.08.20 you have time to order your cards, after that the Somniumcards Eden Edition will no longer be available in our shop. On 13.07.20 the cards went into production and will be produced for 8-14 weeks. After completion of the production your order will be delivered directly to you!
We have decided on this pre-sale in order to be able to plant as many trees as possible. Thanks for your patience!

Details
---
6 x 56 self-designed marked cards in Eden design (52 beautiful poker cards, 2 identical jokers, double face gaff, instruction card for marking system)