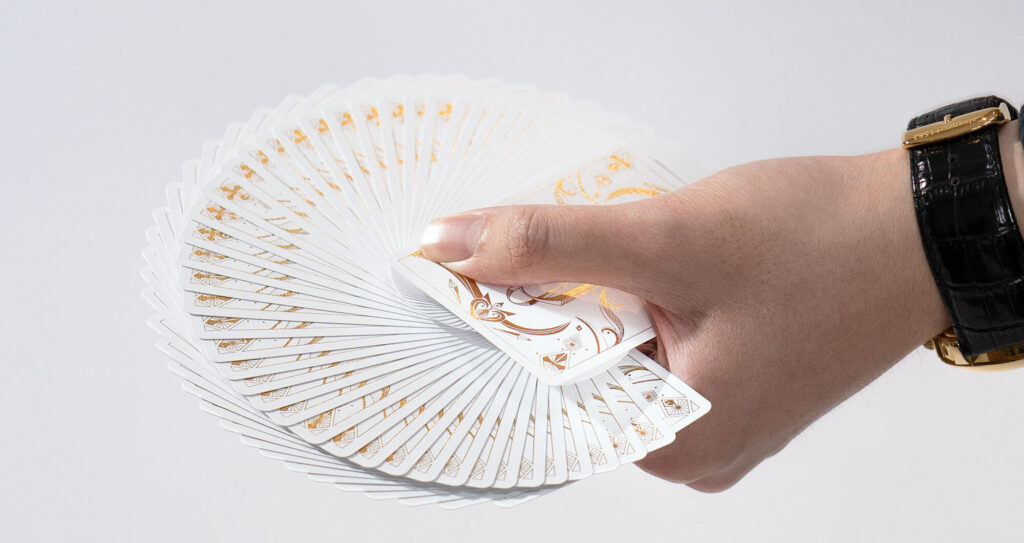 Info
---
OUR MOST PREMIUM EDITION
The Prestige Edition is fully marked – that means you can see the full index of each card (color + value) on each back. You will learn the marking system within a few minutes with the help of the manual, which is located underneath the deck in the outer box (single deck) or in the lid of the half-brick box (half-brick). You will also receive a blank card and an additional queen of spades, which wears a mask unlike the regular queen. These gaff cards will help you with your magic tricks, you can find explanatory videos on Matthias Berger's YouTube channel. A detailed unboxing video with all cards in detail can be found on the YouTube channel of Hai Do. Stock and Finish: Slimline B9 by Cartamundi.
Special features of Prestige Edition
Golden foil on all surfaces
Our highest quality paper with even greater durability
BRAND NEW: Outer box for even more protection
No more plastic around the cards and the tuck box (only around the outer box)
For each deck ordered, we donate € 0.50 to artists that are affected by Covid-19.
ATTENTION!
The Prestige Edition is limited to 20,000 decks, so when it sells out, it will only be possible to order it during our Collector's Edition in the fall, never again after that.
Details
---
56 self-designed marked cards in prestige design (52 noble poker cards, 2 identical jokers, blank card, gaff queen with mask)
Golden foil on all surfaces (cards and tuck box)
Limited to 20,000 decks
Paper and finish: Slimline B9 by Cartamundi